Please observe this small dolly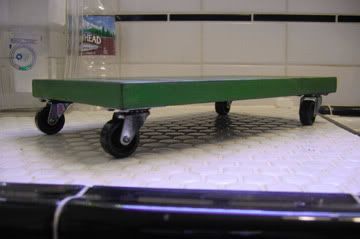 I had originally planned to hammer some plain brass upholstery studs all around the sides of this thing, but the wood was so hard it bent several of them. I thought I'd show the wood who was boss, and tried pre-drilling 1/16" holes to pound the studs into, but to no dang avail — the drill bit snapped off inside, and it lives there still.

So, I settled for painting it chromium green with cross-hatched brushstrokes, rubbed some lighter yellow-gray wash into it, and slapped on the wheels.

I then spray-enamelled the underbelly a glossy black. (Spraypaint is more fun than I realized, and a much finer spray than I realized as well. This opens the door to a new world of stencil/t-shirt type projects.)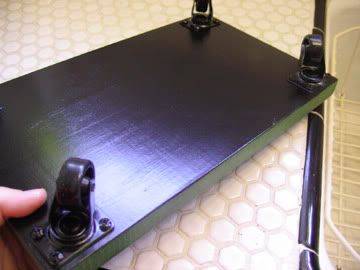 Then, never ever one to let well enough alone, I masked off some stripes on the top, and sprayed that with black as well.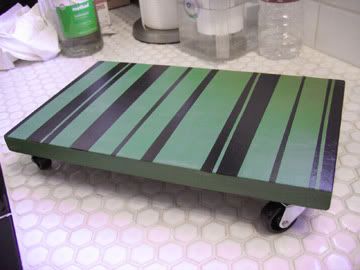 The result is a very small dolly that can perhaps be used to trundle around an alarm clock or maybe several bottles of pills on.

Or, I suppose, one could attach a leash and use it to pull a single brown bag of groceries home.