Quaker Ohs! Cereal is the shittiest cereal on earth
Last week I made the mistake of buying Quaker Ohs! Honey Graham cereal, and I would like to devote today's entry to preventing anyone else from doing the same. It is honestly terrible. Quaker Ohs! is the most awful cereal you can imagine. Don't ever, ever buy it or eat it.

This is the disgusting product in question, Quaker Ohs!: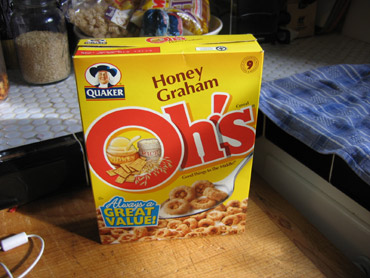 The bulk of the reason behind my virulent hatred lies in 1) the cheapness of the cereal, and 2) the hideous way in which the synthesized lard behaves.

Inexcusable Cheapness
You know how a ring-shaped grain cereal like Cheerios is delicious because it is hearty, toasty, and somewhat dense?
Quaker Ohs! Honey Graham cereal is none of these. One cereal piece occupies the greatest area in space that those few grains of oat flour and what-not can possibly be extruded to occupy without collapsing. The texture of the ring is similar to a hardened, extruded cornstarch packaging pellet coated with corn syrup.

The "good stuff inside" each ring is factory floor sweepings. There can be no question on this matter.


The Unbearable Lardiness of Being
As I neared the middle of my first bowl of Quaker Ohs! Honey Graham cereal, I realized a paste was forming on the roof of my mouth. Uneasy, I scraped the roof of my mouth with a finger and observed the whiteish substance. Rubbing it between my thumb and forefinger, I discovered it was

fat

. Some kind of scienced-up industrial oil, probably; it felt exactly like Crisco, if a little grainier.

That was my last bowl of
Quaker Ohs! Honey Graham cereal.

It is awful.



I cannot emphasize my contempt for this cereal enough.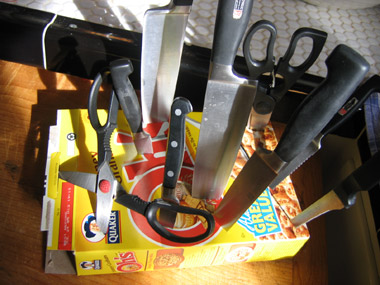 Even the cleansing purge of flame is not enough to obliterate this crime against cereal consumers from the earth
.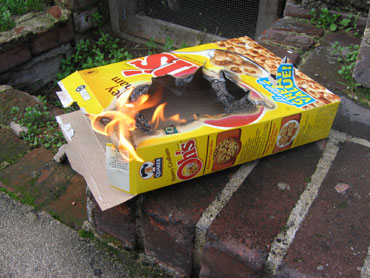 I tried to lure a neighborhood cat over to poop on the box for a picture, but he wouldn't come near it.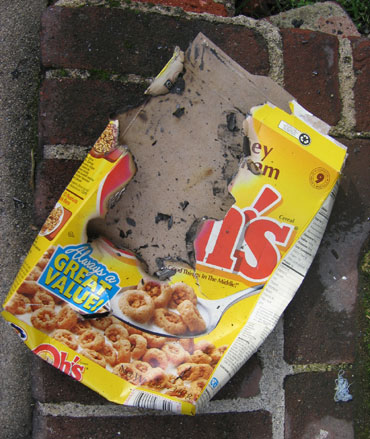 This is where you belong,
Quaker Ohs! Honey Graham cereal: at the bottom of a garbage can.
I genuinely hope you rot in hell.


I invite everyone to heap their scathing contempt on this inedible blunder.